Professional Development Workshops & Training
Continue your training and professional development with MaKami College.
Continuing Education Workshops
MaKami College offers various special interest workshops throughout the year for massage therapy alumni to gain continuing education credits, as well as upgrading workshops for massage therapists who have graduated from schools not currently offering a 3,000-hour program.
Workshops and continuing education courses are offered through a number of organizations. Please refer to CRMTA, for a list of approved continuing education courses and workshops, along with their associated credits. Workshops can vary, but we have listed some examples of common workshops below.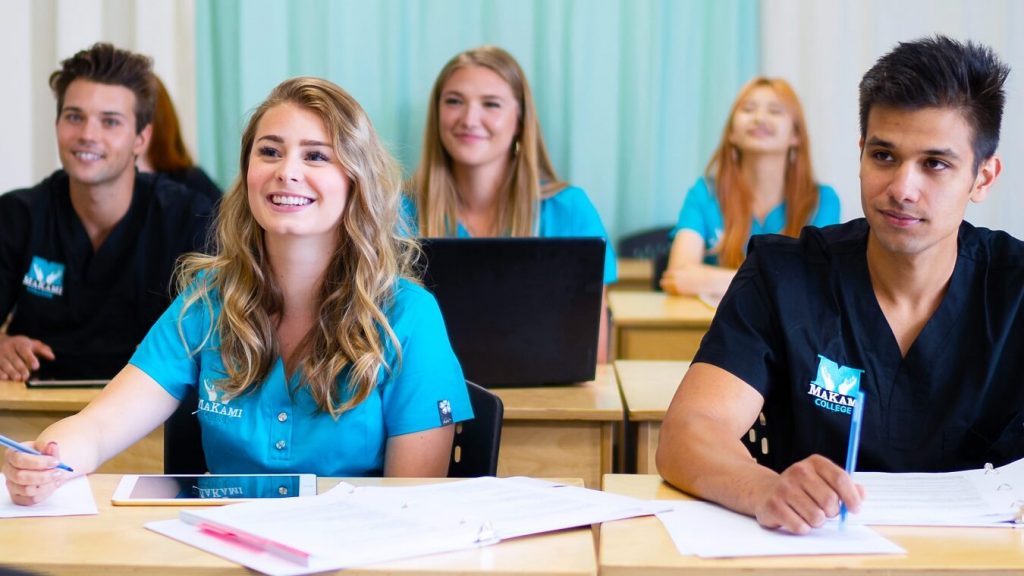 Pre-and Post Natal Massage
Advanced Lymphatic Massage
Advanced Hip & Lower Back Treatment
Pharmacology for Massage Therapy
Introduction to Orthopedic Assessment
Business and Employment Preparation
Introduction to Treatments
Advanced Treatment of Soft Tissue Injuries
Advanced Neuromuscular Massage Technique
Advanced Myofascial Release and Cupping
Prenatal, postnatal, and infant Massage – theoretical applications
Massage for patients with illness and client care
Advanced Palpation and Landmarking – Upper Appendicular
Introduction to Massage – Basic Tenets of Massage
Introduction to Business – Business, Liability Protection
Introduction to A&P: Anatomy, Medical Terminology, Chemistry, Cells
Tissue, Muscles, & Bones
Cardiology, Blood, Blood Vessels, Lymph & Respiratory
Nervous Tissues & Spinal Cord and Spinal Nerves
Endocrine, Gastrointestinal, Urinary, Reproductive Systems
The Brain and Cranial Nerves & The Nervous Systems
Introduction
Neurological concepts and orthopedic conditions
Lower extremity conditions
Lower extremity assessment
Axial region conditions
Axial region assessment
Upper extremity conditions
Upper extremity assessment
Introduction and integumentary pathologies
Blood, blood vessel, cardiovascular pathologies and lymphatic pathologies
Muscular, neurological, respiratory, and endocrine pathologies
Psychological, gastrointestinal, urinary, and reproductive pathologies
Advanced Neuromuscular Techniques
Theoretical applications
Application and protocols level 1
Application and protocols level 2
Common massage protocols
Ethics and Professionalism
Ethics, Professionalism, Boundaries & Communication
Sexuality, Trauma, Drug & Substance Abuse, Mental Health
Soft Skills
Skin rejuvenators
Wraps
Stone massage
Herbal and oil treatments
Prone
Side-lying and seated
Supine
Trigger Points
Introduction to Pathology & Infection Control
Cardiovascular Pathologies
Lymphatic Pathologies
Basic Techniques

Swedish Massage Routine, Seated Chair Massage, Bamboo Massage, and Clothed Massage
Theoretical applications

Practical applications
Foundational topics
Theoretical applications
Psychological tools
Foundational topics
Current topics in nutrition
Terminology and Upper Appendicular
Lower Appendicular
Introduction to Massage Therapy
History of Massage, Introduction to massage industry, licensing and standards of practice
Introduction to Neurology & the Spine
Palpation and Landmarking
Introductory techniques
Advanced techniques and protocols
Theory of Intermediate Therapeutic Techniques

Practical Applications of Intermediate Therapeutic Techniques
Techniques and applications

Baby and Infant Massage
Theoretical applications and techniques

Myofascial cupping
Theoretical Applications
Exercise Prescriptions