Massage Therapy Program Frequently Asked Questions
Find answers below to common questions about our ACMT massage therapy program.
Admission Pre-Approval
Let's Chat
To find answers to common questions about the massage therapy program at MaKami College, click on each question below. Find more information about the program, how to become a massage therapist, advisory services offered, student massages, and more. Learn more about our ACMT program offered at our Edmonton and Calgary campuses.
Massage Therapy Program Curriculum
What Courses are Taught in the Massage Therapy Program?
Our 3,000 hour Massage Therapy program offers extensive theory-based and hands-on training in online, in-person or a blended format. In the first year, students will learn the foundations of the human body along with basic massage techniques in their massage therapy courses. Second-year students will learn advanced massage therapy techniques to learn how to treat and prevent injuries.
View our full Massage Therapy program curriculum here.
Interested in Massage Therapy at MaKami College?
Get pre-approved today!
Student Success Stories
Our students go on to do amazing things! Here's what some MaKami Alumni are doing with their advanced massage therapy training.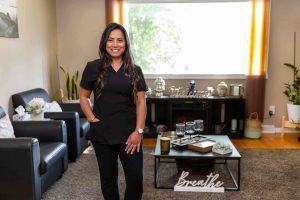 Ilene Reyes was a dayhome owner when she received a massage at MaKami's student clinic that changed the course of her future.
Read More
See more stories