Continuing Education
Continue your training and professional development with MaKami College.
Continuing Education & Workshops
MaKami College offers continuing education opportunities throughout the year, including a number of workshops for students as well as the general public.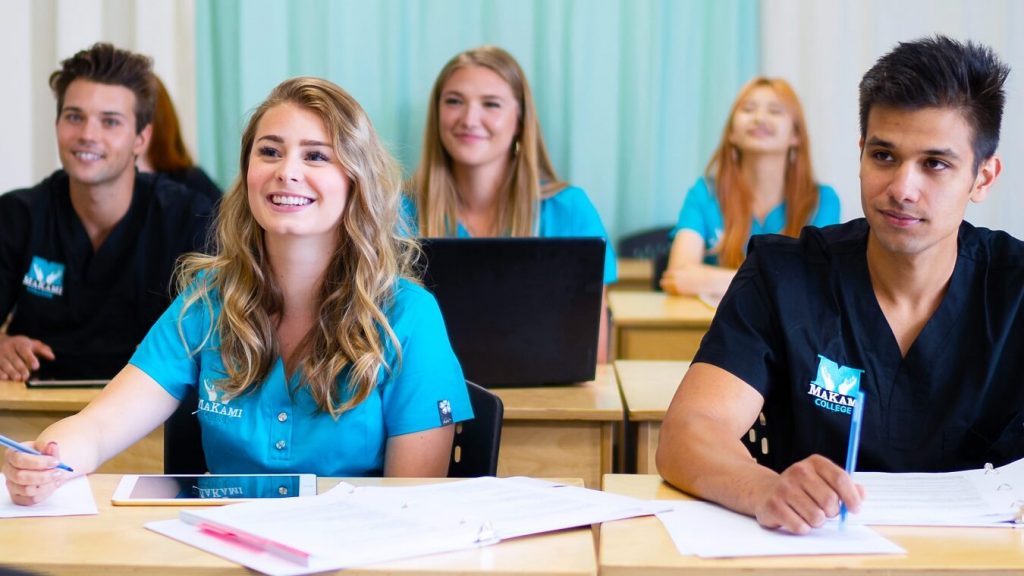 Workshops
MaKami College offers a number of workshops for the general public and for MaKami alumni to gain continuing education credits, as well as upgrading workshops for massage therapists who have graduated from schools not currently offering a 3,000-hour program.
Upcoming Workshops – Public
Below is a list of upcoming workshops available to the general public. If you have questions about these workshops or would like to sign up, please contact us. 
Introduction to Massage Therapy: June 15  (Online – Free)
Attend a FREE and FUN workshop that will give you some insight into one of the most rewarding and fastest growing industries in the world. Massage therapy! Learn more.
Introduction to Technology: Next Class Coming soon (In-person – Free)
If you are intimidated by computers, or you would like to learn some basic skills to help you with every day tasks, this is a great program for you. Geared towards beginners, this free series of workshops will take you through the steps of how to operate a Windows computer system, from starting up to security and more.
Part 1: Computer Basics
In an increasingly digital world, using technology can be overwhelming and hard to work with. MaKami College believes in empowerment through education, so we are proud to present our Introduction to Technology Workshop – Computer Basics, the first workshop in our technology series. 
In this FREE 3 hour workshop, you'll learn: 
Definitions to commonly used terms

 

Using a Mouse

 

Using the internet and search engines

 

Email skills

 

Helpful skills like copy and paste

 
The skills you learn at this workshop will help with job searches, when applying for schooling or upgrading, and will benefit you at work. 
Workshops for Massage Therapists 
MaKami is not currently running any massage therapy workshops. However, workshops and continuing education courses for massage therapists in Alberta are offered through a number of organizations. Please refer to CRMTA for a list of approved continuing education courses and workshops, along with their associated credits. Workshops can vary, but we have listed some examples of common workshops below.
Pre-and Post Natal Massage
Advanced Lymphatic Massage
Advanced Hip & Lower Back Treatment
Pharmacology for Massage Therapy
Introduction to Orthopedic Assessment
Business and Employment Preparation
Introduction to Treatments
Advanced Treatment of Soft Tissue Injuries
Advanced Neuromuscular Massage Technique
Advanced Myofascial Release and Cupping
Prenatal, postnatal, and infant Massage – theoretical applications
Massage for patients with illness and client care
Advanced Palpation and Landmarking – Upper Appendicular
Introduction to Massage – Basic Tenets of Massage
Introduction to Business – Business, Liability Protection
Introduction to A&P: Anatomy, Medical Terminology, Chemistry, Cells
Tissue, Muscles, & Bones
Cardiology, Blood, Blood Vessels, Lymph & Respiratory
Nervous Tissues & Spinal Cord and Spinal Nerves
Endocrine, Gastrointestinal, Urinary, Reproductive Systems
The Brain and Cranial Nerves & The Nervous Systems
Introduction
Neurological concepts and orthopedic conditions
Lower extremity conditions
Lower extremity assessment
Axial region conditions
Axial region assessment
Upper extremity conditions
Upper extremity assessment
Introduction and integumentary pathologies
Blood, blood vessel, cardiovascular pathologies and lymphatic pathologies
Muscular, neurological, respiratory, and endocrine pathologies
Psychological, gastrointestinal, urinary, and reproductive pathologies
Advanced Neuromuscular Techniques
Theoretical applications
Application and protocols level 1
Application and protocols level 2
Common massage protocols
Ethics and Professionalism
Ethics, Professionalism, Boundaries & Communication
Sexuality, Trauma, Drug & Substance Abuse, Mental Health
Soft Skills
Skin rejuvenators
Wraps
Stone massage
Herbal and oil treatments
Prone
Side-lying and seated
Supine
Trigger Points
Introduction to Pathology & Infection Control
Cardiovascular Pathologies
Lymphatic Pathologies
Basic Techniques

Swedish Massage Routine, Seated Chair Massage, Bamboo Massage, and Clothed Massage
Theoretical applications

Practical applications
Foundational topics
Theoretical applications
Psychological tools
Foundational topics
Current topics in nutrition
Terminology and Upper Appendicular
Lower Appendicular
Introduction to Massage Therapy
History of Massage, Introduction to massage industry, licensing and standards of practice
Introduction to Neurology & the Spine
Palpation and Landmarking
Introductory techniques
Advanced techniques and protocols
Theory of Intermediate Therapeutic Techniques

Practical Applications of Intermediate Therapeutic Techniques
Techniques and applications

Baby and Infant Massage
Theoretical applications and techniques

Myofascial cupping
Theoretical Applications
Exercise Prescriptions