Business Administration Program Curriculum
MaKami's Business Administration courses are leading-edge, with functional programming you need to succeed in any workplace.
Admission Pre-Approval
Let's Chat
MaKami College Business Administration Program Courses
MaKami's 10-month Business Administration program is packed with leading-edge programming, made for today's workplace. At our Calgary and Edmonton campuses, you won't find hours of outdated theory here. Instead, you will find the latest in business administration curriculum combined with a case-study format where you learn real-life skills to help you succeed in the workplace.
If you're looking for a program that will help you stand out from your colleagues, MaKami's Business Administration program is it. Whether you're looking for courses for office administration or office management, executive and administrative assistant courses, or want to advance your skills in other areas of business, such as marketing, event planning and social media management, our program will give you a well-rounded education in business administrative skills. View the full list below of business administration courses you can take through our Alberta campuses.
There are 15 main courses in the Business Administration Curriculum: 
Basic Skills in MS Word, Excel, PowerPoint and Outlook
Master Keyboarding
Computer and Software Skills
Communication Skills & Conflict Management
Managing Client Relations
Performing General Office Procedures
File & Records Management I
Advanced Skills in MS Word, Excel, PowerPoint & Outlook
File & Records Management II
Intro to Finance and Billing
Organizational Behavior
Planning Corporate Events
Marketing & Social Media Engagement
Career Preparation
Practicum
Additionally, our online business administration program is offered in a case study format, which allows students to learn hands-on as an administrative assistant at a mock company.
Interested in the Business Administrative Assistant Program at MaKami College?
Get pre-approved today!
Read more about MaKami students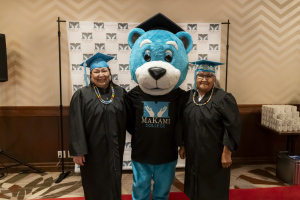 Lisa Smallboy moved from her reserve in rural Alberta to pursue her career as a Health Care Aide.
Read More
See more stories