ESL Classes & Support
All MaKami College students have access to free English language courses on our campuses.
Improve Your English Skills and Gain Confidence
Is English your second language? MaKami can help! All MaKami College students have access to free English courses.
Provided at all MaKami campuses, these ESL courses help students learn and improve all English skills (reading, writing, speaking, pronunciation, listening, etc.) and have more confidence working with clients, co-workers, and supervisors. 
Do not let fear of a language barrier hold you back from your next career. Our student support team is here to help all students receive the support they need to succeed.
Edmonton students can e-mail Andre for more information.
Calgary students e-mail Neda for more information.
International students who want to study and learn English at the same time can apply to become an international student at MaKami College in Calgary or Edmonton.
Building Confidence and a Career
As a Canadian immigrant over the age of the 40, Ping wanted to improve her English skills and find work to improve her life. She feels so lucky to have spent her time studying at MaKami College. The staff worked very hard to help her in her studies and made her more confident in her future. 
International Student Success Stories & Resources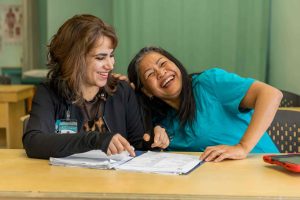 Originally from Thailand, Chalerm heard about how MaKami College helped students with their English and decided to enroll in the school's massage therapy program.
Read more
See more stories